EMPLOYER GOLD SAVING ACCOUNT
Flexible saving plans for businesses
What is 31p1 employer account?
The time has come for all of us to take control of our financial future with the best way to buy gold. There is no doubt that we have a savings and retirement crisis that involves the majority of our working population. 31p1 urges to make the financial golden rule of paying yourself first become a common practice for all of us. This is exactly what the 31p1 program offers to all employees and employers. All businesses willing to work with our new and effective benefit program will definitely start the process of turning spending habits into saving habits, which is a very important first step towards financial independence of employees.
The world is facing a financial crisis at the moment, especially after retirement. Therefore, the employer plan by 31p1 is a savior in this time of crisis. We help employers and employees develop a saving habit that benefits them in the long run. With the employer plan of 31p1, you can track your savings, choose a denomination and save yourself from financial emergencies.

Employer Sponsored Account
Through company sponsored accounts, employees can easily save for their retirement.

Flexible Plans
Your Company may comprise of 2 or 2000 employees, you can still set up a 31p1 plan that will be flexible as per your need.

Consistent Saving for Employees
Through 31p1, employees are able to save their income consistently through payroll deduction.

Inexpensive and Easy to Setup
With very minimum charges, setup an efficient gold savings plan for your company.

Minimal Service Fees
With plans starting from $19/month, saving in gold is now easy for employees at any income level.

Buy Gold at a low cost
When your company offers a 10% match or more, the employees can purchase physical gold for less than market price.
What is included in 31p1 employer account?
The employer plan of 31p1 is inclusive of a one-time cost which includes setting up of the software as per your company's requirement. The monthly fee covers expenses of customer support, software upgrades and maintenance which ensures the performance stays up-to-mark all the time.
Sign up for 31p1's employer account now gold and inspire your employees to save so that they can easily make a gold purchase in the future. Apart from the installation of the software and providing the dashboard where the savings are tracked, 31p1's employer account has a lot of other things to offer. The working people usually consider saving as another task, decreasing the burden, 31p1 empowers them to connect their gold savings account to their bank account so that their contribution will be automatically deducted from their account on the due date.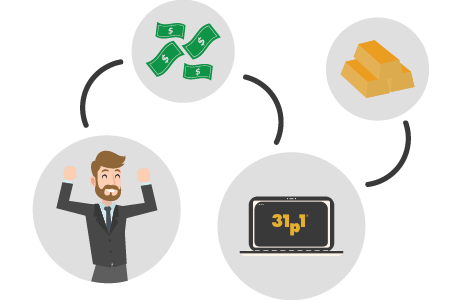 Benefits of employer sponsored gold savings account
The employer sponsored gold savings account is the benefit plan for employees with an automated way to enable employees save for their retirement crisis. Through this account the employer can contribute a certain amount to its employee's account by making a match. Be it saving for long term goals or short term ones like tuition fees or purchasing a home, an employer sponsored gold savings account is the best way to buy gold. It might not be possible for an employee to make a gold purchase without any savings, therefore this plan will facilitate them to save in gold and make their forthcoming stable. With a steady future, an employee can relax and have a happy retirement after working for most of their life.
Being the best way to buy gold, 31p1's employer account makes owning gold easy for employees of a small or large enterprise. With increasing inflation, the employees now don't have to bother for any financial emergencies because they always have the purest gold saved in the side.

Contribute
Employee determines the saving amount in dollars.

Match & Track
Employer can match the contribution percentage along with tracking deductions and contributions.

Transfer
When an employee's threshold is met, their account amount will be transferred to physical gold.

Collect
Physical gold will be distributed by employers to employees on quarterly basis.