INDIVIDUAL GOLD SAVING ACCOUNT
Gold saving with convenient approach
An Individual Gold Savings Account is a very simple process. You can simply start buying gold as an investment, consistently every month. Improving one's saving habits, the IGSA program helps an individual secure their financial stability at a cost as low as $4.99/month. Each individual can customize their saving plan as per their requirement by choosing the deposit amount, frequency to save and the gold denomination (1g, 5g, 10g, 1/2 ounce, 1 ounce).

Easy to access account
With a customer-friendly portal, track and manage your finances from anywhere and everywhere.

Flexible Plans
As per an individual's requirement, one can customize their plan and easily save in gold.

Convenient Withdrawal
Once your gold is vaulted, you can request your gold to be shipped at any time to your doorstep.

Safe Payment System
With our tracking portal and security module, your payments are secure and can be tracked at all times.

Minimal Service Cost
Get complete benefits of saving in gold through 31p1 at a very minimal cost of $4.99/month.

Efficient Support System
With a dedicated team of customer support agents, we are the most reliable savings portal you will come across.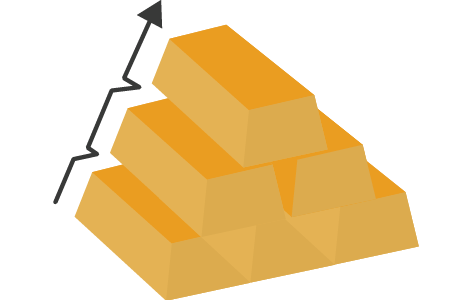 Increase Savings with IGSA
IGSA itself is a savings program that minimizes an individual's time investment while giving top-notch benefits. The services provided by 31p1 are trustworthy and efficient. 31p1 is the place where you'll find the best gold bars to buy for investment. Our focus is on creating smart savers who understand the golden rule which is pay yourself first from every paycheck.
Once you register with 31p1, your savings will be automated directly from your bank account, saving you time and stress making 31p1 the cheapest place to buy gold online from.
---
Smart Saving System
The portal of 31p1 is designed in a way that it is easy to understand and consumer-friendly making it amongst the best gold companies to invest in. Once you register your gold savings account, understanding how it works is effortless. Every section has its own purpose since it is all about making your experience worth the investment. While you navigate through the portal, it is just a smart technology that one can easily follow and master.
The reason why this portal is created is that an individual can control their savings and make the most out of their saving budget.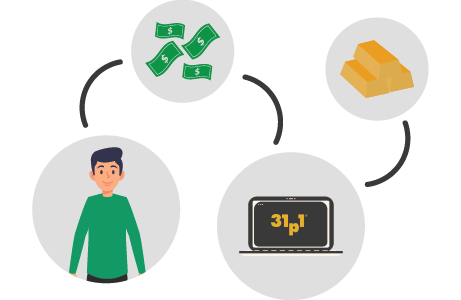 Buying Gold as Investment
Physical gold is worth holding because it's a universal finite currency. In the same way a family home should not be regarded as an investment, gold bullion is not just an investment, but a form of saving for a rainy day or of financial insurance. You shouldn't trade your gold. 31p1 being amongst the best gold companies to invest in, promotes saving in gold for long term instead of trading it every now and then.
Buying Gold as investment is a good way to ensure wealth preservation and for passing wealth from one generation to the next. Once you've got some gold bars in your portfolio, then other investments options can be considered. However, compared to other commodities, gold is more accessible, because an individual can easily get best gold bars to buy for investment from 31p1 because it is the cheapest place to gold online.
Why 31p1's IGSA account?
31p1's IGSA account enables individuals to save in gold in their budget. Regardless of one's threshold, budget, or frequency, 31p1 being amongst the top gold companies to invest in promotes saving because every individual deserves owning gold bars. For individuals that believe in the idea of buying gold as an investment, 31p1 offers customizable plans being a platform that is accessible to all. To start buying gold as an investment, sign up now.

Register
Through a 3-step easy process, create an IGSA account where saving in gold becomes easy.

Customize a Plan
Choose your budget, payment frequency and denomination to customize your plan.

Start Saving
Make monthly payments, and keep saving till you meet your threshold.

Receive Gold Bars
Once the threshold is met, let us vault your gold bars or ship them to you.