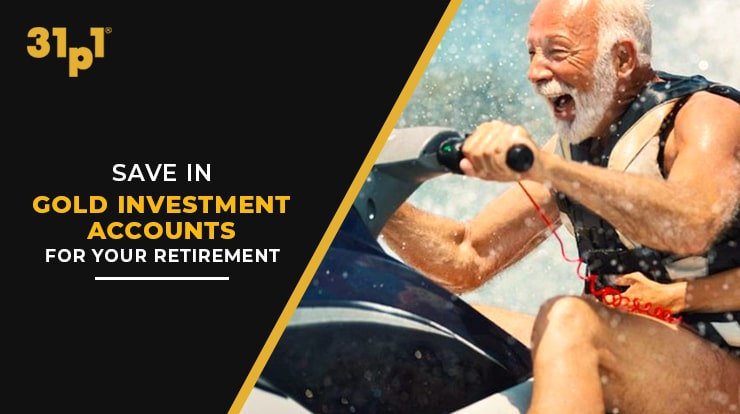 Saving for retirement needs is essential and should be planned without delay. Gold is a suitable investment if you are planning a retirement fund. Gold investment accounts allow all individuals to save in the precious metal, gold.
Gold is the perfect investment to include in your portfolio to maintain financial stability for your long-awaited retirement. The asset is widely preferred and known as a hedge and symbol of wealth, but it is mainly beneficial to remain financially sufficient during retirement. Investing in gold bullion is a rarity the world craves, and what better than to save up for your retired years. Financial advisors and market consultants almost always recommend gold to be included in every retirement fund.
Why You Should Invest in Gold for Your Retirement Fund
A Haven AssetYour retirement fund should be safely accumulated, preserving your hard-earned money for later days when you can sit back and enjoy your dollars. To remain at ease, comfortable with your savings during your days of leisure, you should invest your money in safe assets that retain their value in the long run. Investing in assets like equities and bonds means putting yourself out into the open market, bearing the brunt of market volatility. The conventional financial assets, although providing high returns, do not guarantee security. These assets are volatile, and hence investors may blow up most of their savings in the uncertain conditions of the financial markets.
What better than gold? Gold is a haven asset that retains its value in the long run. Moreover, it shares a negative correlation with other significant assets in the market. This allows investors with gold holdings to benefit from the surge in gold prices when the value of equities and bonds takes a deep dip. When you decide to store your hard-earned money in the shiny yellow metal, you opt for an asset that has historically held and maintained its value. Gold has always proven to be a good hedge against financial and economic uncertainty – during times of inflation, stagflation, disinflation, hyperinflation, and the like.
The world craves to possess the shiny yellow metal in its various forms. However, with the increase in excavation and gold mining, the metal is diminishing in its supply. This suggests that we may not have any more gold on Earth a few decades from here on. Surprised? Don't be! The globe's largest producer of the metal, by a wide margin, is South Africa. It is home to the world's deepest gold mine, the Mponeng mine, which extends 2.5 miles underground. The asset is finite in its supply, and this gives more weight to the belief that gold will retain its value and worth over the long run into future years – all the more reason for you to invest in gold for your retirement.
How to Make A Gold Retirement Fund
You may choose to invest in gold in various forms, depending on your cash flows and budget. Remember, you do not need to be a billionaire to invest in gold. Small investments in gold today can undoubtedly take you a long way in the future. Here follow some of the ways you may choose to invest money in gold.
Buy Physical Gold
Probably the most apparent gold investment option, investing in gold bullion or gold bars is most straightforward and convenient. Investing in physical gold has its downsides, and for you, it may be the insurance and storage expenses you may have to bear on your gold holdings. While your gold can be stored at home or even in a bank's vault, the online storage is widely preferred and used. However, when purchasing your gold, ensure that you are approaching reputable dealers online or locally and checking for your gold purity and authenticity.
Save in Gold Investment Accounts
An early start to your long-term savings, gold investment accounts enable you to save small amounts of money in an investment account today, which will benefit you in future years. A gold investment account is designed to provide individuals with the utmost convenience and flexibility, allowing them to open their gold investment accounts through the online banking system. These are incredibly secure systems that protect data and finances alike. You only need to decide the number of troy ounces of gold you wish to invest. At the prevailing gold rate, you can then transfer the requisite funds into your gold investment account.
Invest in Gold Stocks
One does not need to be completely entrenched into the stock market to invest in gold stocks; anyone can invest in gold stocks. However, you must be aware of gold mining companies and their earnings and profits. Investing in gold stocks comes with added research and monitoring. Investors ought to keep tabs on the market, ensuring that the capital they have invested in is continuously performing well, adding to their returns. Choosing the right stock requires time and attention, and investors should put their money in profitable stocks.
As you take steps towards investing for a retirement fund, you should monitor the gold market and check for profitable investments. Your cash flows and budget will determine the type of investment suitable for you. Moreover, watching your gold investments and checking for changes in the market is compulsory and essential.